[AW] Darkness Falls, Come to Play
 Her steps were strong, if not a bit choppy. Slender yet full banner slightly waved from side to side to help keep more of her balance. Chartreuse orbs sliced back through the air between her and the darkness behind her as she moved through the trees. Leathery wings tucked at her sides neatly before she looked ahead and just as she had made past one of the few oak trees, her attention was suddenly drawn to the slight scratch against bark. Head whipped around as wings slightly flared up and a light yet somewhat strong weight slammed into her causing her to fall over.

"Got ya!" the playful voice hissed in her face as she looked up seeing sky blue orbs. 
A chuckle left her body as she smiled.

"Yes you did." soft vocals came out and a small paw booped her nose before the figure disappeared. Her form moved to do a roll back to her belly and she let her eyes rest on the smaller form of a feline as he made his way back to her and sat down.

"Can we go home yet?" his question hung in the air and she tilted her head slightly,

"You don't like the lands we've been visiting?" He slightly reached up to her face,

"I do! But we haven't been back in a while." She thought over her words for a moment. 
"Ethio, you know it's not easy to reach there, not even with my magick." she answered, lowering her head to her paws seeing his expression. Then she gave a smirk,

"And you're much too heavy now to be carried like a kitten." and nudged him playfully with her nose before getting up and darting off toward a nice sized pond as he snapped,

"I'm not that heavy!" 
"Speaking" | Thinking | "Ethio Speaking"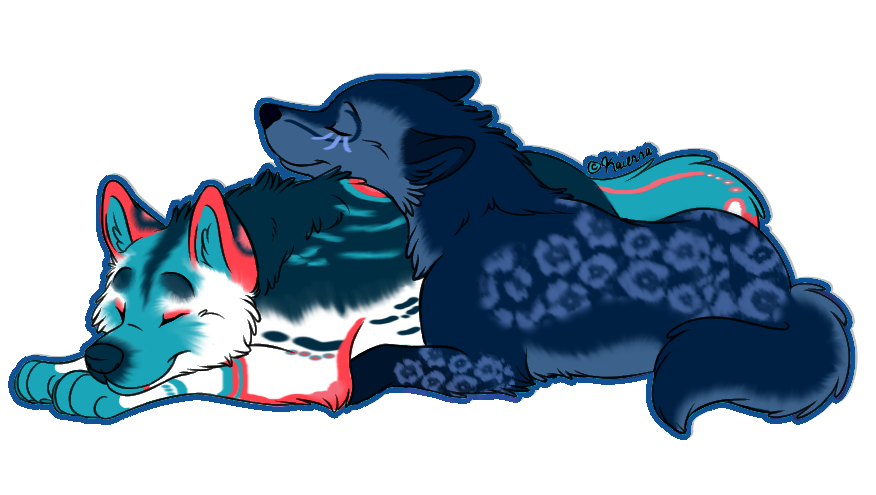 Forlorn were the shadows that slithered beside their master's limbs. Their silent signs of disturbance were only understood by his mind. They were apart of him after all. They swirled around his limbs in a vain display of comfort. He appreciated the gesture but it did nothing to help sooth the frustration he felt for not finding her. His gaze cast towards the horizon. The sky was a soothing with mother moons ever-watchful gaze. He wondered if she was searching for him or had she given up hope that he would come back to her?
The sound of wings caught his attention. His auburn ears pulled forward as he listened to their octave. The sound of them was different. They were thicker in texture and heavier then those that belonged to his wife. Aggravation filled him for feeling the slight slap of hope hit his gut so unmercifully. His tail swatted behind him as he decided to investigate whom exactly the wings belonged to. He was curious if maybe they had seen his wife. Someone had to have known where she was hiding.
He could hear voices in the cover of the night. Their conversation was not something he was intentionally eavesdropping on, however, they weren't exactly quite. So, was this wolf not a native? Curiosity filled him as he carefully pulled over the façade that was his every day persona. Soon enough the pair were within view. The wolf was breath taking in various hues of blues, greens, pinks, and whites. She reminded him of a peacock.
"Good evening."
His voice was quite soothing and inviting. He held no malicious intent at the very moment. He was far too consumed with his need to find Sonja to consume to his darker desires. His smoldering ember eyes turned to focus on the woman's familiar. He was curious where his own was. He had left his little bat behind as he followed after his brother. After he found Sonja he would search for his familiar.
@
Xena
"Zen Speaks"
Art by Centience
A  gurgling noise sounded heavy in his ears as a driftwood log bumped into a large boulder near the shore of a body of water turned, and took on too much water to float anymore. As it disappeared, Olu's hackles tingled, feeling worried and uneasy with all of the moisture in the air, the smell of too many green and damp things, and tracks of predators he hadn't encountered before - but knew instinctually that they were bad news. The sounds of the ambient, ill-defined pool of water felt drowned out now, returning to background noise now that there was other sounds to put it in its place in decibel level. A soft breeze rattling close trees like a far-away skeleton army came and went and his ears focused on new sounds, of a giant bird in flight, of sounds of speech. 
Olucander thought nothing of the verbal syllables and vowels as all things communicated and only one species in his own language, and instead chose to mark a spriggand with outlandishly mint green leaves that he felt was too far from the line of trees to be in its place. Either his scent would wither and destroy the sapling, restoring order, or it would thrive anyways and defy the odds of growing and dying things that permeated this place, as strong as a lingering sneeze in February. Impulsively, he lunged towards a large stick, its shape and smell perfect for gnawing, but when his stride took him past the stick, his mouth attached, it drug alongside him, no stick but a small log, no doubt a mere knot to some of these grand trees, but to Olucander, it was too heavy to lift comfortably off of the ground, so he dragged it, his consession stand prize for visiting and surviving these scary trees and all their strange, wormy smells.
His body cleared the edge of the trees, still dragging that small stump by its one good, long branch, and he took in a space where one could breathe uncrowded. He spotted two creatures like himself but not. One seemed to waver in a cloud as if a grainy digital picture struggling to come into being, an absence of light, with leathery wings and proud, vibrant accent colors. The other was stout, a large specimen that also gave off the aura of pride. He had interrupted something.
Still standing, he waited for a little while, and not sure whether he should say a greeting at this prideful-annonymous meeting, or whether he should listen and glean some of the secrets to the universe in their conversation. He sat, the stick poking awkwardly and bulging his right upper lip outwards. He repaid it in kind and gnawed it back to a more comfortable chewing shape, his teeth working noisily, his activity like his own personal popcorn.

@
Zendelrin
@
Xena
Olu's passive power, Nullify, reduces all powers within 50ft.

At 10ft, extreme reduction. Additionally, horse/mundane powers act strangely, but repeatably. 
She chuckled again at her companion's reply back before lowering her head to get a drink. "Of course you're not." she replied with a smirk. Her attention being drawn back to him as she heard his paws hitting the ground. "Don't you dare. Or I'll toss you in the pond." she warned lifting her crown back up. Stretching a wing out, his smaller body ducked up under it and she glanced at him before hearing soothing words. Chartreuse orbs sauntered over the ground before they landed on a large male. Out of habit, Ethio moved his smaller body to be just about under her own. 


After the run-in with her uncle, he was more wary of other wolves, though still remained friendly. She was glad that he finally understood that not all others had her mindset. "Good evening, good sir." she replied with a smile. "Lovely evening for a walk, is it not?" With a wave of her tail, she moved to sit down sensing they had the same affinity. Although curious, she still held onto her guard. Couldn't get caught up into losing another limb, now could we?  


Her gaze drifted slightly down to Ethio and she nudged him. "Don't be rude, Ethio. Say hello." she spoke and the feline slightly flattened his ears saying in a small devoid tone. "Hello." as his own orbs scanned their surroundings.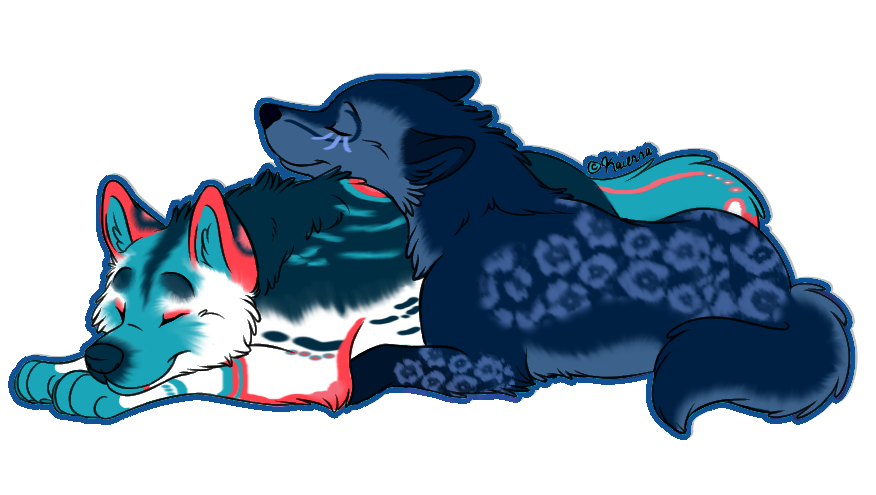 His ember eyes drank in the unique color pallet that painted over her body. Her heavy wings had given him a touch of hope. It was easily fizzled out with the understanding that those wings did not belong to his wife. They were leathery in texture rather than soft and feathery. She was cheerful enough for a stranger. Her mood did not falter with the appearance of a stranger. Although, their affinities were the same, that didn't necessarily mean their characters were the same.
However, he held tightly to his heavily forged illusion of himself. The insidious aura that would leak from him when he wished it to was tightly secured for the time being. It was important for those that were marked by the darkness to play the part of courteous neighbor.  His ember gaze was focused on the woman as she offered her greeting in return. His lips curled up into a soft smile as he bowed his head towards her. It was a gentlemanly gesture that his father had beaten into him.
He then turned towards her familiar. The uneasiness of a stranger was evident enough in his posture. It was only natural to be suspicious of new interactions. After all, what motivation did a stranger have approaching a female in the cover of darkness? For him, it was to possible extract information on the whereabouts of his wife. Another day, well, it could have been anything really.
"It is a wonderful night for a stroll. I see you already have a rather content companion escorting you."
He said with a hint of humor. Internally he heard the rather annoying sound of snapping twigs in the distance. The sound of gnawing was rather irritating but he maintained his collected composure. The only thing that gave away his discomfort of the sounds was his tail. It swung back and forth with his internal aggravation.
"It is rather rude to merely observe others rather than make yourself known."
He called out to the other male. He wasn't exactly hiding his presence well. Perhaps that was the purpose of his distracting chewing.
@
Xena
@
Olu
"Zen Speaks"
Art by Centience
O  lus eyes were dark brown and unremarkable but they glittered with the observation that these two were not quite strangers, but not quite friends, either. As if they had met before and were exchanging polite pleasantries to pass the time. No, not pass the time. To fast-forwards the beginning of the conversation and get to something more important. Pack raids, boundary squabbles, squatters, or someone planning a devious coup and a way to blame it on the other guys and one of them had all the information all about it already; had already figured out their shenanigans. Ah, brilliant suspense. He just knew it. Unless 'going for a stroll' was a euphemism for something, but based on the tension he thought he saw, he doubted that's what it was. Whatever it was, it was big. And him being a single loner little guy out there surviving, it could help him.
He was gnawing his way through a knot that made a large bump like a bubble, which he always expected to be delightfully hollow or squeaky, but was just filled with harder, more disappointing wood, when he realized that he had been spotted. Talked to, even. He slowed his chewing so he could hear his own thoughts as he replayed his auditory memory.
"Oh, okay", he jolted to stand, the bit of wood he was chewing on slipping out of his mouth in the process, and beginning to fall. He had stood too quickly and his right front paw was placed weird, so when he instinctively dove his head down to catch the falling stick, it sort of made him not step right, and he instinctively picked up the paw to set it down correctly this time, but the conglomeration of so many actions at one time and the demand on his brain to be intelligent was just too much blood circulation than his poor heart and bodily coordination could power at one time, so he ended up failing at all of them: not catching the stick and slumping over forwards on his right front ankle.

He managed to pick himself up before he face-planted in a terribly executed cartwheel. Now standing, he could grab his stick again off the ground and he did so. His head leaned forwards with the weight of the branch.

He opened his mouth to say something, and the stick fell back down again, and he forgot what he was going to say. Luckily, he spotted a brown flash in his periphery vision and his head whipped towards it. He observed a long, brown critter with round, glassy black eyes like buttons and a tail made out of brown fluff.

"Squirrel ....", he half said to himself and half said out loud on accident. His legs were pounding the ground in full-stride before he could even remember that he'd dropped his stick or that he had sort of been invited to a conversation and dropped the ball... well, the stick.

The clearing dropped away behind him the way he had came, as he slipped into the trees and wove through forest, following the squirrel that darted from cover to cover relentlessly and had dared appear so close to him as to entice his rumbling belly.

(Olu exit)
-- two hours later--
The squirrel had tasted delicious, and though crunchy, it satisfied. Now exhausted, he was ready for a nap. He stretched his belly close to the ground and marked the spot he had eaten so everyone could know that he had been here, and that he had chased, caught, eaten, and therefore that he was a winner. He lay back down and closed his eyes and stretched so his nose buried itself in his dense tail, and his last thoughts were of a conversation that he had started and perhaps been interrupted(?)... he wasn't sure, before he drifted off to sleep. He dreamt of ponies.

(Olu fade out)
@
Zendelrin
@
Xena
Olu's passive power, Nullify, reduces all powers within 50ft.

At 10ft, extreme reduction. Additionally, horse/mundane powers act strangely, but repeatably. 
"It is a wonderful night for a stroll. I see you already have a rather content companion escorting you." the male spoke and Xena gave a slight smile as Ethio gave a light huff for a reply. He wasn't normally like this, what had gotten into him? But she knew the reason. The woman gave the feline a calm brush over the head with a paw before her attention also went towards another that made an appearance although, whoever it was had no real intention of coming further out into the open. Chartreuse orbs went back to the tree-line now as the male told whoever it was that it was rude to just observe them.
Xena blinked before sitting down, one winged appendage moving to slightly place it's self on the ground on her left. More to keep herself balanced though she had since learned to cope without the leg. Another male spoke, his words were short, voice sounded like he was young still. Her crown tilted slightly at his action of movement. Yes, definitely still young. Considering the fact that he all too soon darted back off into the darkness of the tree-line. Lengthy banner swept slightly over the ground as she gave an amused hum.
"Well, that was short-lived"
she spoke.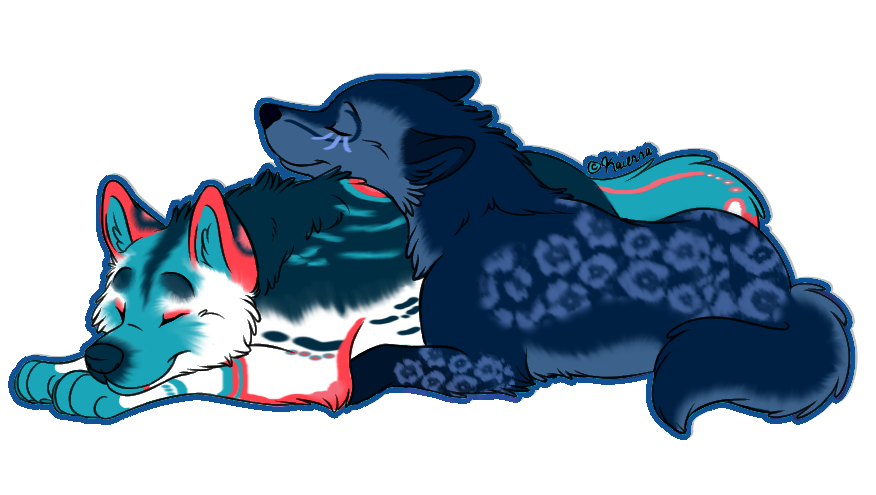 Hosting by Kaons. Skin by Selkie. Banner by Nikkayla.
Powered By
MyBB
, © 2002-2020
MyBB Group
.